Abaunza.Group is pleased to share with you the most exclusive and captivating events in Miami that will be taking place during the next weeks. Miami is a city where you will find music, art, and a luscious gastronomy in every corner. The city has a magical rhythm that beats in the hearts of a diverse community full of energy and love for an active lifestyle. Hence, we made a list of the ones you cannot miss!
Big Bang X Connexion Trunk Show at Faena

May 18-20
Designers from all over the world will come together this week to share unique designs at the Big Bang X Connexion Trunk Show. Curated by Maria Buccellati, President and Co-Founder of Faith Connexion, the show will provide the opportunity to shop Big Bang, Faith Connexion, Iris Noble, Amen, House of Matching Colours items and more while enjoying light bites and Rose.
Saddy Abaunza, Founder & CEO of
Abaunza.Group,
will be a guest speaker at the event. She will be sharing her extensive knowledge and more than 30 years of experience of the Real Estate market in Miami.
The event will take place at Faena's Spa, Tierra Santa Healing House, located on the 3rd floor of Faena Hotel Miami Beach.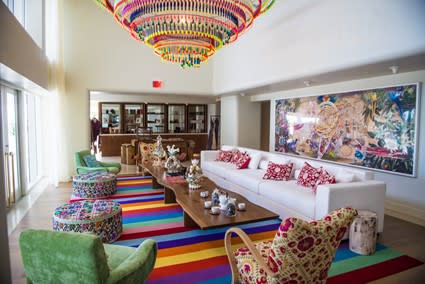 Hotel Faena's Tierra Santa Healing House spa.
Food Network & Cooking Channel South Beach Wine & Food Festival by Capital One (SOBEWFF®)

May 20 - 23
This 4-day gastronomic festival will bring together the world's most renowned wine and spirits producers, chefs, and culinary personalities.
The festival will host more than 65 events all around Miami, from wine tastings to brunches & lunches, fitness classes, late-night parties and of course, lots of eats, beats and sips. Some of the nation's most talented chefs and lifestyle personalities will participate in the festival including:
The 15th annual Heineken Burger Bash presented by Schweid & Sons® hosted by Bobby Flay (Friday, May 21)
The Moët & Chandon Champagne BubbleQ® hosted by Guy Fieri (Saturday, May 22)
Goya Foods' Grand Tasting Village featuring Grand Tasting Tents & Publix Culinary Demonstrations sponsored by Sub-Zero Group Southeast (Saturday, May 22 and Sunday, May 23)
All net proceeds from the Festival will be donated to Florida International University Chaplin School of Hospitality & Tourism Management.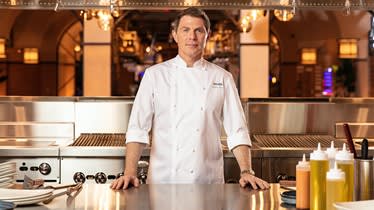 Bobby Flay in the kitchen of his restaurant Shark, Palm Casino Resort Las Vegas.
Bitcoin Conference 2021

June 4 - 5
The largest conference focused on Bitcoin moved from Los Angeles to Miami and will be taking place this coming June! Miami is welcoming the Bitcoin community with open arms and is ready to offer an incredible experience to all attendants. The event will take place at the MANA Wynwood convention center.
More than 150 speakers and 1,000 companies will participate in the conference. The conference will bring together the brightest minds and most knowledgeable individuals in the space to celebrate the largest Bitcoin Event in history. Featured speakers at the event include:
Senator Cynthia Lummis - United States Senator, State of Wyoming
Michael Saylor - Chairman & CEO, MicroStrategy
Jack Dorsey - CEO and Chairman of Square, the CEO of Twitter, and a co-founder of both
Tony Hawk - Skateboarding Legend, Entrepreneur, Philanthropist
Nick Szabo - Cryptographer, Legal Scholar, Computer Scientist
Moreover, MintGox, an online gaming competition tournament based around Bitcoin, will bring together Game demos, tournaments and talks from leading figures in the Bitcoin gaming space.
For more information click here.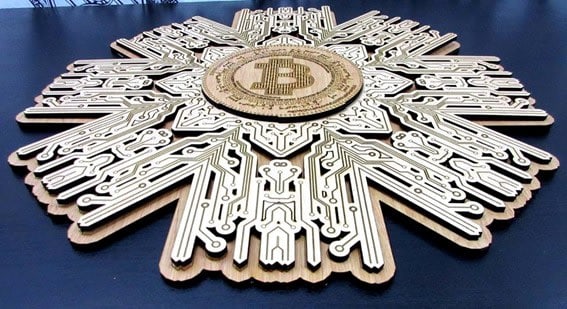 Cypherpunk Cryptographic Art by FractalEncrypt.
Siudy Flamenco Bailaora at the Adrienne Arsht Center
June 26 – 27, 2021
After a successful world premiere in Miami last November, "Bailaora – within me, within you" returns to the city by popular demand!
The Siudy Garrido Flamenco Company is comprised of eight Flamenco ballet dancers and an ensemble of skilled musicians, all led by the artistic vision of award-winning choreographer, Siudy Garrido.
Bailaora offers a distinct music experience, mixing traditional flamenco instrumentation with synthesized sounds and contemporary techniques. The plot takes an emotional journey through dance that results in a humanist and feminist commentary on self-invention and self-determination, revealing the vulnerability and inner strength of a warrior whose only voice is her art. Olé!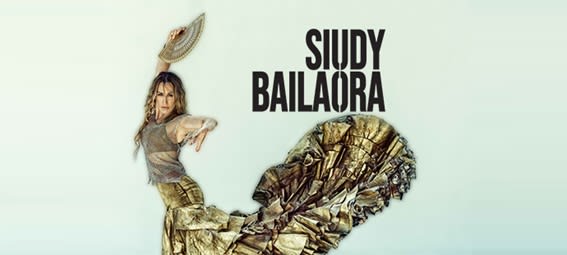 Siudy Garrido.
Hope you can enjoy these events and tell us about it soon. Stay tuned for the best activities in Miami!